Mozilla in Africa
By William on Saturday, September 4 2010, 10:59 - Permalink
"Your flight is scheduled to leave at 6am tomorrow morning" Asani answered, as he put his mobile phone back in his shirt pocket. Asani, a local street vendor in Nairobi I happened to meet moments ago in a bar, seemed amused by the startled expression on my face when I saw how quickly he managed to get flight info for me. He quipped with a smile "Hehe, we Kenyans are more high-tech than you think".
It was a particularly fitting comment as I neared the end of a week-long trip in Nairobi, a city I discovered is the tech and innovation hub of Africa.
Maker Faire Africa 2010
I went to Nairobi last week to represent Mozilla at Maker Faire Africa 2010 and lead several Mozilla workshops in and out of the city. My aim was to engage with local web enthusiasts and developers, to get people interested in contributing to the Mozilla, I wanted to get a better understanding of how we can best push the Mozilla Project forward in Kenya and, in Africa in general.
My trips for Mozilla are always rich and memorable experiences where I spend quality time with Mozillians and developers, meet incredibly smart and talented people and learn so much about the local culture.
My trip to Kenya was no exception.
I had heard and read a lot about MFA, especially after our participation last year. The event brings together inventors and makers from all over Africa to help them showcase their work and celebrate African ingenuity and innovation. I knew it would be the confluence of brainy, quirky inventors from every corner of the continent, but I had not anticipated such fun, energy and interaction. Everywhere you looked, creative and colourful inventions, from the automatic sisal weaver to the bike-powered phone charger, surrounded you.
Mozilla had a very colourful booth (as always) and was manned by passionate Mozillians, including Kwamena, Raymond, Alex, Atlanta and Jeff. Teeming with curious visitors, the "inventions" we decided to showcase were an eclectic set of Firefox add-ons. For the particularly web-savvy, Kwamena, Raymond and I led short Mozilla workshops throughout the day, covering everything from how to get involved in L10n to how to develop your first add-on. The response was pretty incredible, with dozens of people walking up to us after to help localize Firefox in their locale and/or write language packs.
Above all, MFA was a great opportunity to meet and raise awareness about Mozilla and the open web to hundreds of students, innovators, movers and shakers from Kenya and beyond. It was also an important opportunity to meet scores of organizations like Ushahidi, Butterfly Works, IAVI, Village Telco, Nairobits, all passionately involved in leveraging the power of open source software and ICT to reduce poverty and advance social change in Africa. Chatting with visionaries like Erik Hersman, Emeka Okafor, Emer Beamer or Joy Tang opened my eyes to so many ways Mozilla can get more involved and support theirs or similar projects. I'll get to that in a bit.
iHub and Nairobits
After MFA, Kwamena, Raymond and I stayed on for a few more days in Nairobi to lead workshops in two of the most interesting tech nodes of the city.
The first stop was Nairobits, an innovative digital design school that provides education to the Nairobi slum youth. It was another humbling experience to meet all of the school's professors and trainers, and to be able to talk about the Mozilla Project to so many young web-savvy students who amazed all of us by their advanced knowledge of PHP, Javascript and CSS. We did a show-of-hands and asked the 50 or so students in the room how many used Firefox. All raised their hands. We then asked how many knew that Mozilla was a non-profit organization and Firefox was an open source project? Zero hands raised. The exercise was very telling, particularly since we were talking to relatively web/tech savvy kids. Virtually everyone I met in Nairobi did not know that Mozilla was a non-profit, let alone that Firefox was made possible by an army of passionate volunteers around the world. Realizing the true nature of the project, it's incredible the change in people's expressions and sudden interest in what we do. As I said goodbye to the students and left Nairobits, I kept asking myself : how many of these kids will become Mozilla contributors one day. So much interest and so much enthusiasm, yet so much more work to be done to raise awareness about the project.
The second workshop we led was at iHub, Nairobi's tech nerve-centre that opened a few months ago. iHub is an innovative open workspace for local technologists, developers, hackers, investors and tech companies, right in the heart of the city. Powered by a 20 Mb internet connexion, hundreds flock there every day, to connect, share and hack together. We were kindly invited by Erick Hersman (the founder) to lead a workshop there and meet some of Nairobi's most talented developers. Raymond and Kwamena led this workshop and dove deep into JetPack, giving a more technical tutorial on how to develop add-ons and then led and impromtu discussion on the monetization of add-ons.
Mozilla, Africa and the Mobile Internet Revolution
Granted, one week in Nairobi is not enough to have a panoramic understanding of a country, and culture, let alone a continent. Yet, after the time I spent there, the numerous conversations I've had and all the different materials I was able to read there, I do return to Europe with a few key takeaways:
Nairobi is Africa's main IT/tech hub, together with Johannesburg, it is teeming with developers, start-ups, of innovative tech/NGO's, of digital design schools and of hacker spaces attracting "African techies" from all over the continent. No wonder Google has its main Africa office there.
the more people learn about the collaborative and open nature of the Mozilla Project, the more people will want to contribute
broadband penetration is growing steadily in Nairobi although it is still very low and outrageously expensive in much of Africa; computers are still very expensive relative to average income
mobile phone penetration is sky-rocketing across the continent and they are used increasingly to access the internet, causing a sea-change in information access; everywhere you look, you will find someone texting, transferring money, updating their Facebook status, checking the latest football, or just googling, via their mobile phone.
uptake in smartphones is increasing steadily, especially in East and Southern Africa, although overall penetration remains low
smartphones will eventually be the laptop killer in most of Africa as mobile internet usage explodes and the cost of smartphones, like mobile phones, is driven down into the mass market price point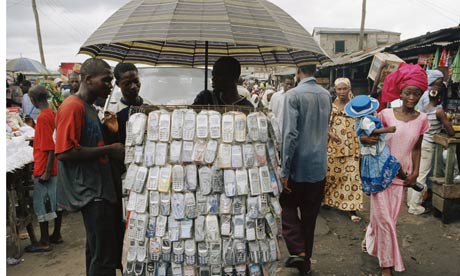 So what does this mean for Mozilla?
First of all, it means that the amazing work that my colleagues in the Mozilla Mobile team are doing is that much more important. For Mozilla to be riding the wave of this mobile revolution and support an open web in Africa, we need to be developing the best mobile browser out there. And that's exactly what we're doing. Second, we need to be much, much more present in Africa, and in my view, particularly in Nairobi, to share and engage with the amazing pool of talent,and innovators the city offers. Lastly, Mozilla needs to reach out and explore ways to collaborate with projects like Ushahidi, FrontlineSMS, Nairobits etc.... who work on innovative open source humanitarian/social projects or lea but who could benefit greatly from the help/support/training from Mozilla's community.
What next for Mozilla in Africa?
There is so much to do in Africa, so many possibilities and opportunities. Thinking out loud here, the first thing I would like to do is build on the "community momentum" gained this past week and follow-up with all the Mozillians I met from Kenya, Burundi, Malawi and Ghana to build community portals, localize Mozilla products and websites and recruit new contributors. The next thing I'd love to do is invite African technologists like Erik Hersman to come visit us in our Mountain View headquarters and speak about what's happening in Africa and the mobile revolution that's transforming the continent. Spending time with Erick has really been inspirational and I think inviting him to speak will have a deep galvanizing effect on us. The second short-to-medium term project I'd like to see happen will be the organization of a "Mozilla tech tour" where a group of Mozilla developers travel to Africa's main tech hubs (Nairobi, Johannesburg, Accra, Cairo) for a series of training workshops on open web technologies and engage with Africa's best developers. And of course, in the long term, I'd love to see Mozilla open an office in Nairobi :)
To conclude this lengthy post (see what Africa does to you?) I'd like to give a special thanks to all those who made my stay last week a most enlightening, instructive and enjoyable one. Special shout outs go to Kwamena and Raymond (the Mozilla dynamic duo from Ghana), Alex, Atlanta and Jeff for their amazing help and support at the MFA Mozilla booth, Brian Isaack Okello for being the superstar that he is and for making the iHub workshop happen, Emer and Evelien for the amazing day at Nairobits and last but not least, to Asani, the street vendor, without whom I would have most probably missed my plane back to Paris.
See my photos of Maker Faire Africa, Nairobits and iHub
Further Reading:
Here's a short list of recommended readings you might find interesting:
Photos credits: @wquiviger / Gideon Mendel/Action Aid/Corbis